GNOCCHI WITH MUSHROOM SAUCE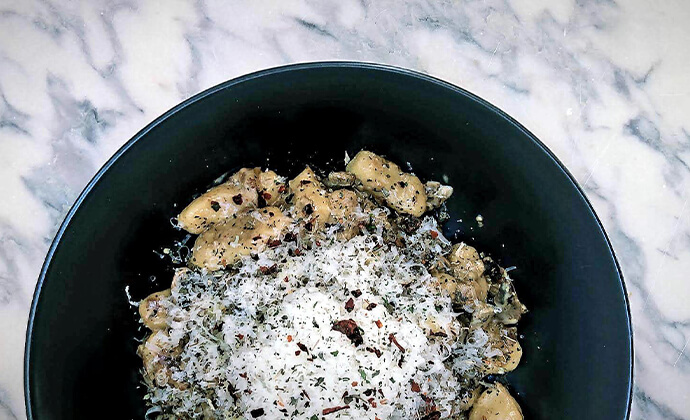 In this post we share from our Chef Iu Soria Franch of Cor Caliu Restaurant a recipe of gnocchi with mushroom sauce. You can do it from home!
Ingredients for 4 people:
2 Potatoes, about 400 gr

2 Cups flour, 500 gr

1 Egg
For the sauce:
1 garlic clove

200 gr Onion

300g Mushroom

150 ml White wine
500ml cream for cooking

Olive Oil

Salt

Ground black pepper
Development of Gnocchi with mushroom sauce:
Gnocchi:
Bring the whole potatoes to the boil in salted water until they are cooked.

Peel the potatoes before they cool down completely and puree them, once pureed , we add the flour and egg, mix everything until we get a consistent dough (the dough does not have to stick to our fingers or the bowl, if applicable we add more flour until we get the right texture) , to finish we add salt and ground black pepper, to taste.

Sauce:
Finely dice the onion and garlic and simmer with a little oil. Cut the mushrooms into slices.

When the onion is translucent, turn up the heat and add the mushrooms, saute it until golden brown.

Add the wine and let it reduce to about half, once reduced we then add the liquid cream and let it simmer until you get a creamy sauce. We will end up adding salt and black pepper, to taste.
We can accompany the Gnocchi with some grated parmesan and if we like it spicy we can add some chilli powder.
Now you can enjoy delicious gnocchi with mushroom sauce!