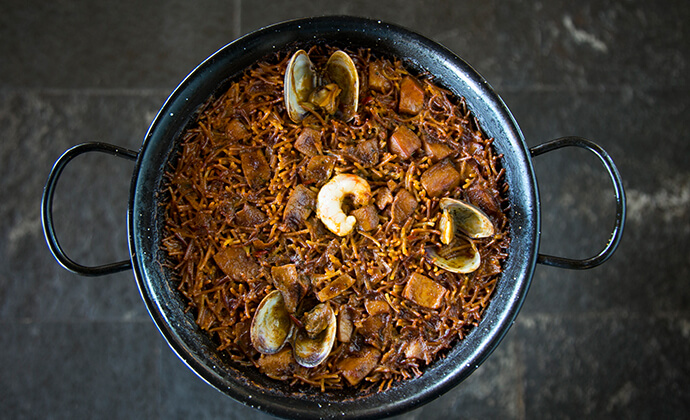 In The Arenal Group we love Saint Georges so today we share the recipe of seafood fideúa. Find out below how this dish prepared by our Chef Manuel Gallardo Martínez de Arenal Restaurant. 
Ingredients: (4 people)
250g Fresh squid, cleaned

8 piece Large sized langostines/prawns

12 pz Medium clams

16 pz medium sized cockles
3 Garlic cloves

1/2 pcs Red pepper

3 ripe tomato

1 litre Fish broth (tinned or tetrapak)
400g Noodles

500 cl Sunflower oil

80 cl Virgin olive oil

Salt, pepper, saffron threads, sweet paprika
Development of Seafood Fideua:
To make our fideúa, we will make a few early preparations so that everything goes well in the actual cooking. We have to clean and cut the squid, prepare the chopped garlic, the chopped tomatoes, the cut peppers, fish broth in a hot pot, prawns, clams and cockles. The noodles we have to toast in the oven at 180 degrees C, stirring them constantly or fry them in the sunflower oil until they are blonde, either of which gives them a particular taste.

Heat the paellera until the oil is very hot, then put the squid in first and stir until it takes a little colour and loses most of the water content, then add the peppers and the garlic , stir and turn down to a medium heat. When all of this is cooked, add the tomato, salt, pepper, a pinch of saffron , the sweet paprika and about 200 cl of fish broth letting it cook for about 15 minutes so that it is almost dry.

Next we will increase the heat of the paellera and add the noodles, boil it well and then add 600 cl. of fish stock, mixing it well and spreading it evenly throughout the paella.
Then bring it to the boil, place the prawns, clams and cockles and bake about 14 minutes to 200 degrees C , until the noodles remain bristling upwards. As we have a little broth left, we can add it depending on how the oven is drying out the fideúa. For those who do not have an oven, put a lid that covers the paellera and put it on a medium heat to cook for approximately the same time ( 14 min ), we will not be as crispy as in the oven but we can solve this with a culinary cooking torch at the last moment.